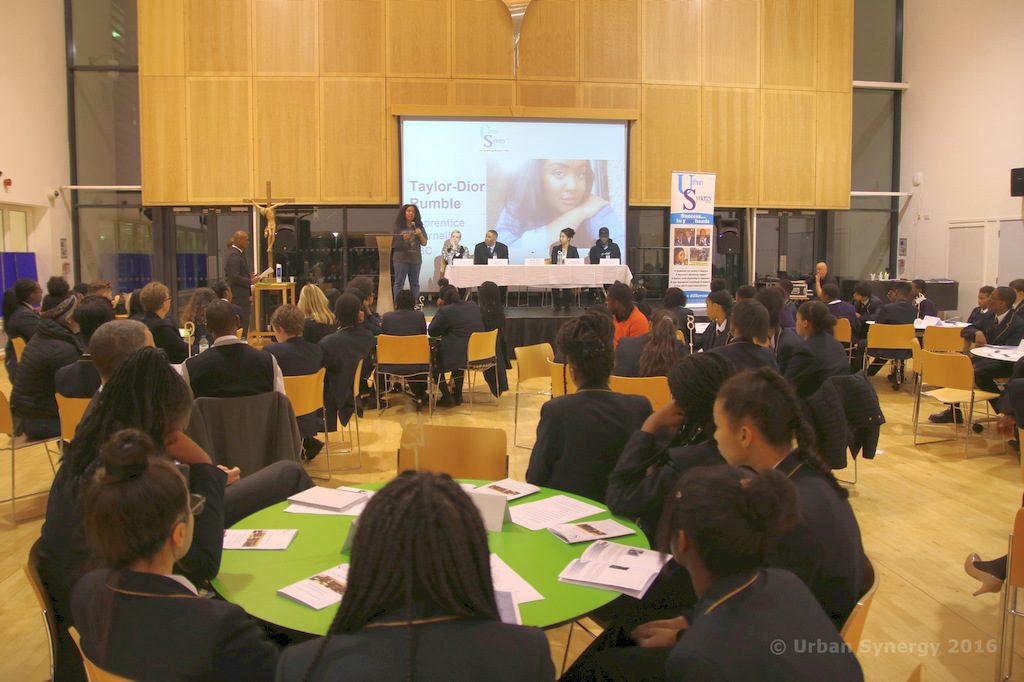 The Urban Synergy 'Top Tips to the Top' Role Model Seminar was held at St Matthew Academy in Blackheath on Thursday 17 November.
The seminar was opened by Deputy Principal Helene LeRoux and facilitated by Anthony Graham, Solicitor, Amosu Robinson and Urban Synergy Role Model. Anthony was ably supported by Chris Shine, ex St Matthews student and now a recruitment Consultant.
The seminar, which consisted of a panel session, followed by an open Q&A and speed mentoring was received enthusiastically by 87 St Matthew students from years 9 and 10 and staff present.
The panel members were a mix of ages and professions:
Chantal Coady, Chocolatier, Rococo Chocolates
Greg Wade, Building Surveyor, Capital Construction Consultants Ltd
Taylor-Dior Rumble, Apprentice Journalist, BBC
Andreia Carvalho, Head of Scientific Affairs, (Centre for Developmental Neurobiology) King's College London
Shaquille Robinson, Assistant Producer, BBC Radio/1xtra.
Students were also treated to an exciting speed mentoring session with more than 20 role models from industries including banking, public services, finance, law and technology.
Following opening prayers by students, the role model panel shared with the students the highs and lows of their career journeys, insights into their jobs and details of how they overcame challenges:
Chantal Coady
"It is important to have people support you"
Taylor-Dior Rumble
"I have to be myself and see where that takes me"
"Be yourself, there is only one of you, be happy with who you are and things will come into place. Make sure your work rate is on 100%"
Andreia Carvalho
"You can do whatever you want in this amazing city, just put your heart into it"
"Keep your eye on the goal, keep your eye on the target"
Shaquille Robinson
"As soon as I got the job I ran with it"
"Without your voice you're not yourself"
[quote cite="
Paula Macqueira, St Matthews Academy
"]It was a great evening and both staff and students thoroughly enjoyed the event. Please pass on our thanks to all your mentors and team that gave up their time to inspire our students.[/quote]
Student Comments
[quote]'I learned that to be successful I will need to be passionate and not allow people to put you down with what they say. Shaquille Robinson inspired me because I can relate with him as a young person. He taught me not to try and impress other people. I will continue to work hard and attempt anything possible. Additionally I will learn to apply my talents in different areas. I enjoyed the chance to talk and interact with people in different areas of employment.' – Pheanyi aged 14yrs
I learned that you need to be passionate about what you want to do in order to be more successful. You have to be yourself in order to be happy and content with your life and job. You need to network with your peers and others to get what you want in life.' – Adwoa-Konadu aged 14 yrs
'I learned to start with the end in mind, there are no boundaries in life. Greg Wade inspired me his determination to succeed in life and he didn't give up. I will focus on my work.' – Emily Lian aged 15yrs
Rita Benkyi inspired me because I am heading for a career in intensive care and we are very similar. You can achieve what you want if you go for it. Pay attention and believe in yourself.' – Noelia aged 15yrs
All of the role models inspired me, all had something special and important things to teach. I learned that even though you might not know where you want to be or if your plan doesn't work that you must stay positive, persistent and determined. I will work hard and plan out goals.' – Melanie aged 15yrs
William Schomberg inspired me as he is in a field that I want to pursue one day. I will try to read as much as I can so that one day I can become a top journalist.' – Tasnim aged 13yrs
'I learned that I can be anything I want to be and to keep on persevering and not to let anyone demotivate you. Andrea Carvalho inspired me, I feel like I really clicked with her because I was always inspired to be a doctor and my mother is strict with academic excellence as well.' – Leonilde
'Determination is the key and to always be myself. I think that Shaquille and Taylor inspired me because they were very confident and their experiences really helped me so that I can do better. I will have to work hard and never give up too quickly.' – Benedicte aged 14 yrs
I will focus more on my education and I will stay determined and keep reaching for my goals.' – Aliyah aged 13yrs
'I will be more positive – I have a very pessimistic and anxious mindset which makes me not bring 100% everyday at school, worrying over small things. I will try my best, be more sociable. Do not procrastinate.' – Genevieve aged 14 yrs
'I learned that you should really believe in yourself because at the end of the day you're the only one who's really going to get you there. I will do my best in everything and believe in myself.' – Maria aged 13 yrs[/quote]