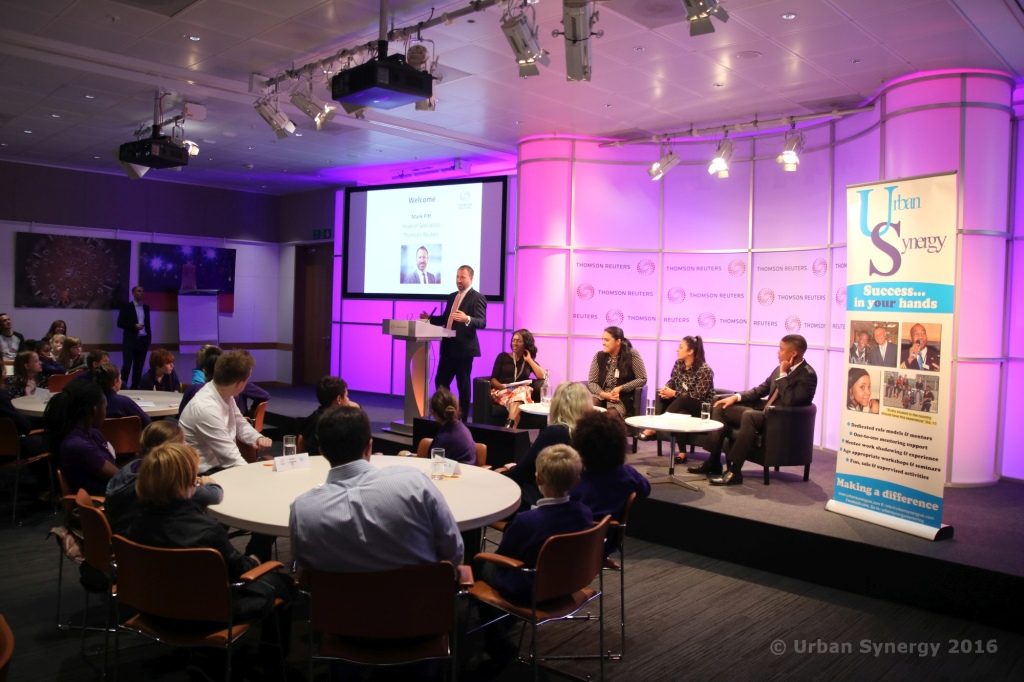 On Wednesday 28th September, Urban Synergy and Thomson Reuters collaborated to deliver a fourth STEM focused Role Model Seminar to 70 year 6 students from Gordonbrock Primary School.
The seminars, which aim to raise student aspirations by providing an opportunity to gain an insight into the role models' professions, hear personal challenges as well as success stories and their 'top tips' for success focused on early careers for their target audience and was delivered by Thomson Reuters graduates.
The seminar was opened by Dave Weller, Chief Enterprise Architect at Thomson Reuters, who welcomed Urban Synergy, the students, their teachers and Thomson Reuters Role Models.
In the panel session facilitated by Lesley-Anne Miller, Client Liaison at Urban Synergy, four panelists shared what they like most about their jobs, any challenges they faced and overcame, and opportunities available for young people interested in the STEM sector.
The Panelists were:
Nicola Hill – Programme Manager
Dominique Schreier – Service Manager
Geoffrey Diagana – Product Manager
Suneet Kapoor – Technical Specialist Manager
Following the panel discussion, students got the opportunity to ask more questions during a speed mentoring session where they met a range of Technologists from across Thomson Reuters Enterprise Technology & Operations organization who volunteered their time for the seminar. The session provided students with an in-depth insight into the potential and opportunities available for a future in the technology field as well as other careers within the media company.
Role Mode "Top Tips"
Dominique Schreier – Service Manager
"Believe in yourself"
"Try out new things don't be afraid"
"Failure is a process not a tattoo"
Nicola Hill – Programme Manager
"Keep on learning, keep on building skills"
"Keep your options open"
"Never turn down an opportunity"
Suneet Kapoor
"Do your research, think about what you want to get into"
"When you get into a job don't jump take a look around"
"Prioritise, it makes life easier"
"Give a 100%, be the best at what you do, do it to the best of your ability"
Geoffrey Diagana
"Work hard, but work hard intelligently"
"Always ask questions"
"Enjoy life – give out a positive energy"
Leila Thomas, Founder of Urban Synergy and Technical Project Manager at Thomson Reuters said "It was a great opportunity to expose primary school students to an early careers event. This is made even more special as the students are able to meet role models in their working environment and apart from gaining 'top tips' about their roles the groups swap stories about school and work. Between the students and volunteer staff, everyone learns something!"