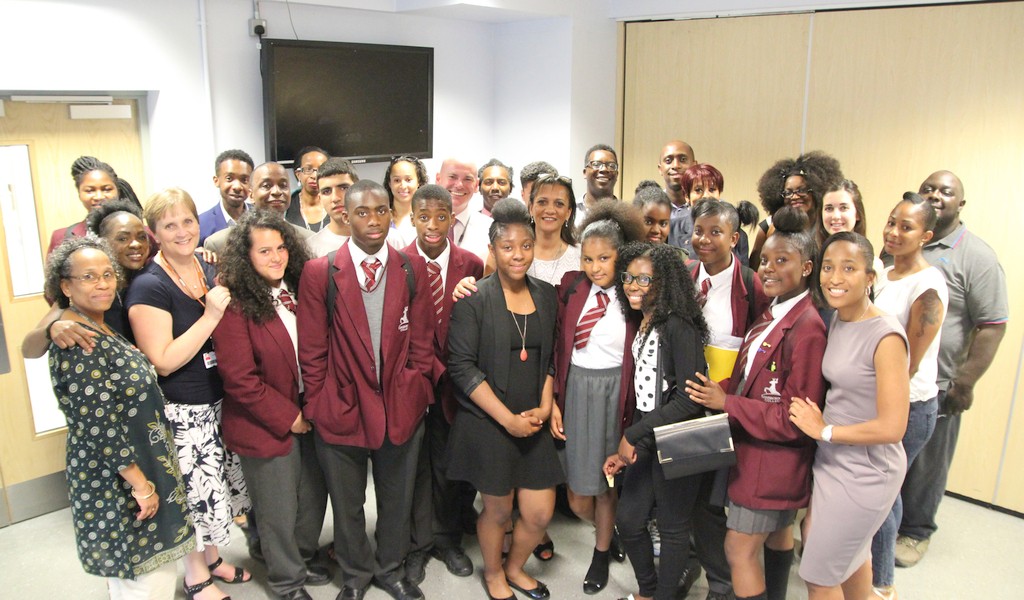 Urban Synergy held a 'Top Tips to the Top' Role Model Seminar at Conisborough College on Tuesday 30 June. On a balmy sunny afternoon, more than 50 Students from years 9 & 10 attended to hear from people from a variety of professions talk about their journeys to date and impart their individual 'Top Tips' to success.
The seminars enable a unique exchange – whereby students are inspired and encouraged and those giving advice are able to give back and share their experiences with those eager to learn.
The panel
Toks Aruoture, Owner The Baby Cot Shop
Louise Pierre, Dentist, Southern Dental
Charlie  Easmon, Medical Director, Your Excellent Health
Adrian Pettigrew, ex-footballer turned Engineer.
Hosted by Sue Watson, Consultant at Caatalyst and ably co-hosted by Eden McDonald a year 9 student at the College, the seminar kicked off with a few selected songs from the amazing school Gospel Choir followed by an opening by Head Nick Langham.
The panel session was followed by the speed mentoring session with additional role models from Government, IT, Banking, Design, Production and Law sharing stories and imparting advice to the students.
As Sue Watson prepared to introduce the panellists, she spoke of her own struggles from school to where she is today saying 'failure is not final'.
Panellists 'Top Tips'
Charlie Easmon: "read stories of successful people – you will realise it is not always easy. Learn about other cultures as it will stand you in good stead when you go out into the world."
"The things you learn from failure are huge but I have no regrets."
Toks Aruoture: " discover what your gift is and what your passions are .. decide what you want and find out what qualifications you need to get there."
Louise Pierre:"work hard at whatever you want to do – give it 100% so that you don't look back and have regrets.  If you are struggling put into extra time and always talk to people that can help you and give you their knowledge."
Student feedback
'I learnt to aim high and also that my education is the key to success.' Rochelle 14 yrs
'Even if I don't know what I want to do, I need to concentrate on the things I am good at.' Leah 14 yrs
'Focus more in lessons, prioritise and organise,' My 14 yrs
'There is always gonna be a second chance, even if you fail,' Tami 14 yrs
[quote cite="Nick Langham Head Teacher"]
Thank you to Urban Synergy once again, helping to motivate, inspire and show the importance of hard work to our students.
[/quote]
Additional Role Model Quotes
"Always nurture your real friendships"
"Don't live your life by accident, live it on purpose!""
"If you can find someone who has done what you want to do, it is valuable to have"
"It's not just your grades, you need to be an all round person"
"Do as many things you can, experiment"
"Summer holidays is the perfect time, use it wisely."
"Ask your family what strengths they see in you"
"Read outside of school"
"Just do it, no excuses"