O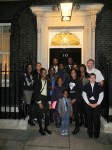 n Friday 31st October, Urban Synergy volunteers, mentors and mentees were invited for a tour of 10 Downing Street. The tour started in the Cabinet Room where the government meets weekly around  the vast oval table which allows everyone to be seen by the Prime Minister. We moved on to the Grand Staircase to see portraits of previous Prime Ministers adorning the walls, then upstairs to the White Drawing Room and Terracotta Room.
Following refreshments, the mentees were able to meet member of the Press Office who explained the daily operations and how they organise foreign travel for the Prime Minister and press. Our mentees were keen to learn more about the office and how the staff came to work in such interesting and challenging roles. After a quick tour of the Small Dining Room and State Dining Room, we made our way back to the entrance to pose for pictures in front of the famous black door.
Our thanks to Dawn and members of the Press Office for giving us a privileged look into the workings of 10 Downing Street.