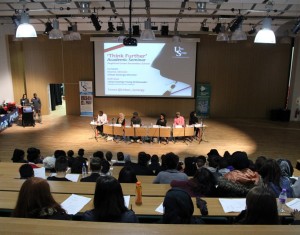 On a blustery Wednesday evening 80 Deptford Green pupils attended an inspiring seminar held by Urban Synergy. 20 recent graduates came to talk about the challenges, obstacles and successes from secondary school, college and then university.
The pupils were enraptured as Martin Imafidon, who gained a first in Computer Science at Westminster University-, declared that he was a 'bad boy' at school. However, all shared three vital tips on how to stay on track. Many involved the need to persevere with your dreams, be determined to work hard at your talent or passion and finally how many of the mentors were supported by family members (particularly mothers).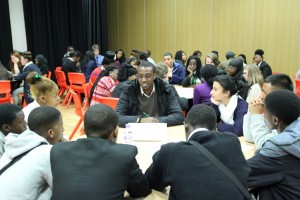 Pupils were then invited to rotate onto different tables where a graduate mentor sat to have a more personalised discussion on their achievements and
Kofi Siaw and ex-Deptford Green pupil currently studying Law at Birmingham University and now a Young Ambassador for Urban Synergy who was the co-host of the event. The response was overwhelming with pupils getting onto Twitter and Facebook to talk of the powerful effect the Seminar had on them.
Evaluations sheets mirrored the positive responses that was had by all,
I learnt….
"…about the different pathways I can take to become the person I want to become" Lucy Yr 11
"…that I need to be strict with myself and disciplined to strive and get the grades for what I what" Phoebe Yr 11
"….i have to fix up, start putting my head down and get the work done" Kevin Yr 11
In answer to 'What action will you take to be successful in the future?'
"I will stop joking and take everything more seriously" Ozan Yr 11
This was the first time Deptford Green has held such an event but definitely will not be the last!
Ms Bygrave, Leader of Teaching and Community links.
Our thanks to Ms Bygrave & Ms Samms of Deptford Green, and all the wonderful Role Models who imparted their experience to the pupils of Deptford Green.