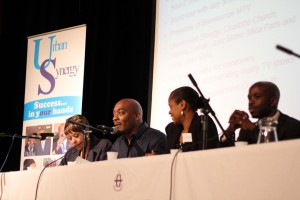 Urban Synergy successfully hosted their 'Top tips for the top' role model seminar at Christ the King 6th Form College in Lewisham on Wednesday 12th October 2011. The event was well attended by 200 young people who came to listen to the panellists and to take part in the speed mentoring session that followed. The event was hosted by Sue Watson, Schools Liaison for Urban Synergy and she was joined by one of our role models, Garry Green, who did a fantastic job co-hosting the event. The panellists consisted of:
Scott Morrison – Director of marketing at Diesel
Darae Palmer – MTV Presenter and singer
Dawn Goring MBE – Office manager to the Prime Minister's office at 10 Downing Street
Monica Thompson – Clinical Psychologist
Roy Ledgister – Barrister
Lanre Sulola – Chartered Accountant & Poet
The panellists spoke about their journey to their careers and provided some valuable insight and advice in how to succeed and to 'follow your passion' and at the same time make time for the important things in life such as family and good friends which also enrich you. The audience were joined by other Urban Synergy role models for the speed mentoring session they included a dentist, investment banker, BBC Radio 1xtra Producer, Chief Pharmacist, Concert pianist and composer, Partner at Brunswick PR, a Producer (who worked on the theatre production 'Cat on a hot tin roof')' IT Security consultant and also featured all of the panellists.
It was great to see so many young people dashing around the hall on a mission to seek out specific role models towards the end of the evening who could advise them on their career paths and to see them really engage with their speed mentor. Some of the young people commented on the event afterwards:
Charmaine, aged 16yrs: 'I learnt that I need determination and drive to succeed, then I can get anywhere. I liked the Clinical Psychologist on the panel because her background story was inspiring. I think that everyone should have the chance to see the Urban Synergy Role Model Seminar live'
Joyce, aged 16yrs: 'I learnt that through hard work and if you are passionate about something, it will happen. Nothing can stop you. Roy Ledgister was passionate from the start and his story inspired me. The seminar was an eye opening experience and makes me more determined.'
Obianu, aged 17yrs: 'I learnt that I should never give up on my goal. I will attend support lessons and workshops and also look at volunteer work too. The role models/professionals related to us very well. Everyone should be able to experience this.'
Sally, aged 17yrs: 'I learnt that determination and passion is key; find a career path that I love. The IT security consultant inspired me, his job seems cool! The Urban Synergy team were great, informative and extremely helpful. Thank you!!'
Darrianne, aged 16yrs: 'The Clinical Psychologist inspired me, she has made me think of it as a good career choice. I will be determined and take up every opportunity that comes my way.'
Josephine, aged 16yrs: 'Dr. Monica Thompson made me believe in myself. I plan to go to university and work hard. Urban Synergy should have a drop in service, they were great! The seminar was educational and fun.'
Shirley, aged 16yrs: 'The anti-money laundering specialist inspired me because he explained that even though you may be starting off at the bottom, with hard work you can accomplish a lot. I plan to put hard work into school academic subjects and also find apprenticeships and work experience in my chosen career. I would have liked to have more time to talk to all of the speakers, I enjoyed listening about their individual lifestyles and how they have achieved their goals. Urban Synergy's seminar helped me very much in how I could work towards my future chosen career and what would help to kick start it.'
Ashanti, aged 16yrs: 'I learnt that I can do anything if I put my mind to it. Roy Ledgister, Barrister, was real and down to earth – he inspires me.'
Mellicia, aged 16yrs: 'Urban Synergy were great – they should continue as they inspire and electrify!'
Andrea, aged 17yrs: 'Everyone should be able to attend an Urban Synergy seminar, so that they can enjoy what I experienced and change their lives.'
Blessing, 16yrs: 'The action I will take to be successful in the future will be to focus and do well in College. Urban Synergy's seminar should be available for everyone in Primary to Secondary schools because some young people are not sure what they want to do and Urban Synergy can help them to decide.'
The Urban Synergy team would like to thank the Principle Dr J Overbury, External Partnerships Manager Dawn Dowdie from Christ the King for inviting us to host the event. The college also had this to say about the event on their own website.