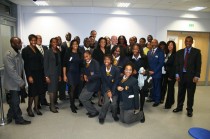 10 Pupils from Catford High School, intent on defying the negative stereotypes of under-achievement, have invited Urban Synergy to help them achieve their dreams. The pupils have helped organize and advertise this seminar with the support of the deputy head, Nick Langham and Urban Synergy.
The event aims to encourage themselves and 100 of their invited peers in Years 9 and 10 to think big, to learn the secrets of success, to work towards their and to be inspired. The seminar will showcase black professionals from diverse career backgrounds revealing their top tips for success.
The seminar was a great success with a panel of Chartered Surveyor, British Airways Pilot, Barrister, Design Consultant and Saville Row Tailor inspiring young people. Our host for the evening was MTV's Darae Palmer.
A big thank you to everyone who made this event happen, Sue Watson of Urban Synergy, Catford High students/staff and of course all the role models and panelists who generously gave up their free time.
If you attended the seminar and would like to leave us some feedback, click here.
Update 2/12/09 – More pics added to the gallery.