October was a busy month for Urban Synergy with its latest eagerly awaited 'Think Further' academic seminar held at Conisborough College, Catford on Thursday 21st October.
Over 150 Year 10 and Year 11 Conisborough students were inspired by the experiences of Urban Synergy's Academic Seminar coordinator, Michael Isola and graduate panellists who joined him in talking about their experiences at secondary school and university and the challenges that they faced along the way. The event was opened by Bob Ellis, Headteacher and hosted by Urban Synergy's Dianne Johnson.
Panellists
Michael, who studied Philosophy and Economics at Oxford University and who has since set up his own business has been coordinating Academic Seminars in an effort to help youngsters realise that university is a realistic goal. Panellists were:
Allaina Abraham, Graduate – Marketing & Information Systems, Hertfordshire University
Dr. Victoria Babalola, Graduate – Medicine, Queen Mary University
Teju Isola, Graduate – Electronics & Communications Engineering, Warwick University
Victoria Hammond, Graduate – Biomedical & Forensic Science, Brunel University
Carl Hazeley, Graduate – Genetics, University College London
Dr. Naoise McSweeney, currently a Research Fellow at Cambridge University
Adeniyi Situ, Graduate – Finance & Economics, Portsmouth University
Tobi Sogbanmu, Graduate – Biomedical Science at Roehampton University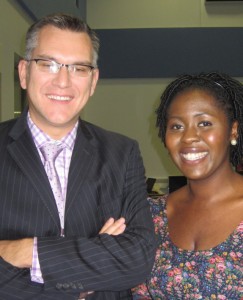 Panellist, Victoria Hammond surprised everyone during her speech by revealing that her former secondary school teacher was sitting in the audience, Conisborough's Headteacher Bob Ellis. Victoria later commented that she remembered him as a positive influence. She said: "He was very supportive and spoke to us as adults – but he kept the boundaries in place. He was a good teacher, we felt as though we were learning at every step."
Role model, Sengova Kailando also came along to provide his insight on university life. Urban Synergy had arranged for legal work experience for Sengova at Furnival Chambers last year and he is now studying law at university. His presence at Conisborough as an academic role model for Urban Synergy was wonderful to see.
The panellists later joined other Urban Synergy academic role models at a speed mentoring session where students were able to ask questions directly to the role models. Academic role model Anne-Marie Imafidon, who gained national acclaim for being one of the youngest people to complete a Masters degree in Mathematics and Computing at Oxford University, also spoke to the students.
Inspired to success
Year 11 Conisborough student, 15 year old Blessing Nfelele said she'd learned a lot from the seminar. She said: "I learnt that hard work pays more than laziness. Time management is very important as planning your time makes your work load easier and stress free. The person who inspired me most was Tobi Sogbanmu, she worked hard even when times were hard and she re-sat her A' levels a few times. She never gave up on herself or her dreams. She is truly a testimony. The action I will take to be more successful in the future is to revise more at home and stop watching television!"
[galleryview id=37]
Esther Da Silva, a 17 year old Christ the King student said: "I learnt that there are other paths that I can take which are useful for my career choices. The person that inspired me was Victoria Hammond as she helped me to realise that there are scholarships available which are not advertised. I will be working much harder to get the best grades for me to get into one of the best universities. I think the seminar was very helpful in motivating me to take my education seriously – to achieve."
We would like to thank all of the academic role models, parents and students for coming to the event on a cold Thursday evening and also Conisborough College for their hospitality.