The Wharf, December 2012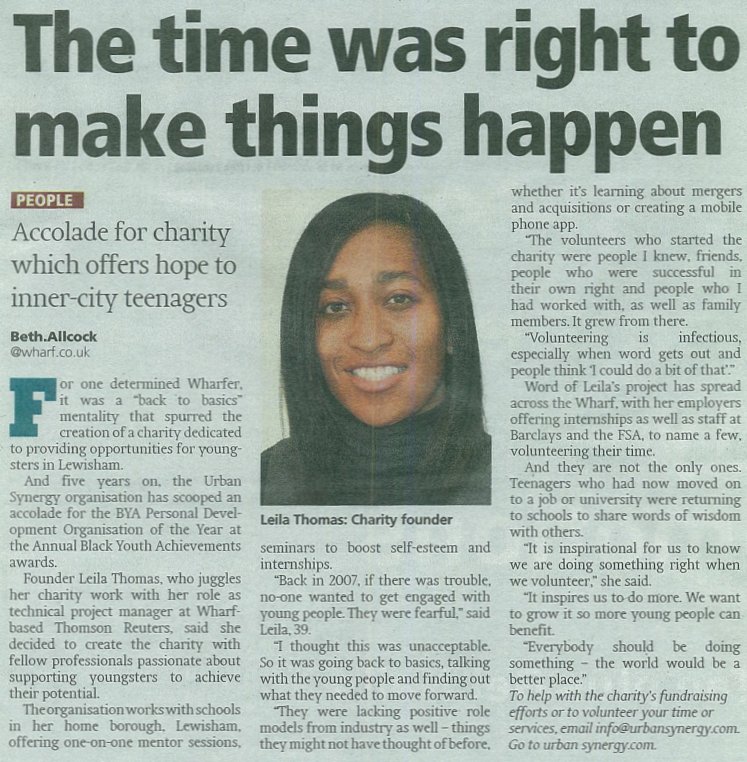 Mum gives feedback
httpv://www.youtube.com/watch?v=LB1DC-mIOPE
Conisborough College Academic Seminar Feedback
Urban Synergy has been inundated with positive feedback from young people inspired by its role models. The feedback illustrates why Urban Synergy's close knit team of volunteers believe in doing as much as possible to help inspire young people to make the most of their academic opportunities in an effort to steer them towards success.
The following examples are a selection of some of the feedback received from the latest Think Further' Academic Seminar at Conisborough College, Catford in South East London. The seminar was also open to a number of other students from other Lewisham borough schools October 2010.
[quote]I learnt that I have to work hard to be successful and not to give up, even if I do not succeed at the first attempt. Victoria Hammond inspired me to do my best and to never give up. I also enjoyed meeting people from different backgrounds who went to university. I think that Urban Synergy is brilliant and every school should have the opportunity of holding a seminar. 
Alisha Sealy, 14 years old, Year 10, Conisborough [/quote]
[quote]I learnt that I should never give up and should always do my best. Michael Isola inspired me because he works in a field that I want to be in. I enjoyed the graduates talking about their journeys. 
Chelsea, 15 years old, Year 11, Conisborough[/quote]
[quote]You need to be passionate to succeed. Dr. Victoria Babalola inspired me because she helped me to figure out what I enjoy and how I should seek a career in it. I enjoyed speaking with Victoria and listening to each and every one of the academic role models career tracks. It would be brilliant if Urban Synergy could have more workshops in schools and colleges. 
Ruvimbo, 15 years old, Year 11, Conisborough[/quote]
[quote]I learnt that I should research and be passionate about what I do. I should network and be consistent in what I do. The person that inspired me was Anne-Marie Imafidon because she explained in detail the minor things about university that are usually missed out from conventional mentoring sessions. 
Isabell Valente, 16 years old, Year 12, Prendergast Hillyfields sixth form[/quote]
[quote]I learnt that doing [preparation] now is the first step to success later. I l also learnt that scholarships come in different forms and therefore I have much stronger hopes of attending university in the future. The person that inspired me was Allaina, because she was able to create her own organisation while in university and managed to pass her exams and have a successful business. I will be managing my time better to ensure that I do well in future exams. I also enjoyed speaking to the academic role models individually. Many of them I could engage with and they had much in common with me now, so it helped inspire what I need to do.
Urban Synergy is a great company for even having thought of giving people this opportunity. Everyone, including people who are not at school, should be able to attend one of these sessions. Ashley Thomas, 16 years old, Year 12, Prendergast Hillyfields[/quote]
Feedback from Martin Nirsimloo, St Matthew Academy
Dear all,
A massive thank you to all at Urban Synergy for your continued support. I am pleased to let you know that our students improved by 21% in the 2010 GCSE results. A massive part of that is down to your support, mentoring and inspiration.
Looking at the lower end of the school we have over 85% of our cohort made up of students from the BME community which means we really would appreciate Urban Synergy's experience and advice over the coming years.
I am also pleased to introduce Sean who is joining our Senior Team overseeing Pastoral Support. Sean will be able to help me identify BME students in need of support and do the daily 'chasing'. Sean is from South Africa and I am sure will be great in supporting myself with the kids
Many thanks again Martin
Catford High Role Model Seminar
Dear Urban Synergy,
I am writing to you following your presentation to our students on the evening of the 26th November. Our staff and students were genuinely inspired and motivated by the group's presentations. We are all extremely grateful that such busy and successful people gave up their time on a cold autumnal evening to share their experiences with members of our community. We all gained an insight not only into the qualifications that are required to succeed, but the personal qualities that make this journey possible.
We will be making a small contribution to Urban Synergy that does not equate in any way to the value this evening had for our students. They were encouraged to develop the skills that will have a transformational effect on their life chances.
Students who are sometimes reluctant to participate in a classroom setting displayed the necessary confidence to ask questions in front of an audience of almost 200 people.
As well as being extremely motivational for our students, the evening brought many practical benefits. The small group mentoring sessions helped them to identify the appropriate pathways into their chosen profession. Students who had previously felt negative about preparing for work experience fortnight made contacts that could help make it a life-changing experience. Please pass on our thanks to everyone involved.
Our students left the building talking about how they can work to become doctors, barristers, journalists, actors or surveyors. The presentations they saw yesterday evening have inspired them to believe that anything is possible and to aim for the very top. It is now the responsibility of all members of the school community to work together to ensure they achieve their goals.
Mr R. Ellis
Headteacher
Catford High Secondary School
Quote from St Matthew Academy
"The impact that Urban Synergy has had on our school community is simply awe inspiring. To see some of our most disengaged students focussing on their future and engaging with Inspirational successful figures was invigorating for me as an educator.
I have almost been able to taste the change in attitude and perception towards their studies and a new found resolve amongst our students since working with Urban Synergy.
The passion and heart that Urban Synergy has is driven by the commitment to empowering the next generation of black leaders in the United Kingdom. As they say 'The heart of a volunteer is the strongest' and Urban Synergy have given the strong foundation on which our students can build upon.
I firmly believe as President Roosevelt said that " we cannot always build the future for our youth, but we can build our youth for the future". In my opinion Urban Synergy is the living example of this philosophy.
Volunteers don't get paid, not because they're worthless, but because they're priceless. Urban Synergy are Priceless and Heaven sent."
Martin Nirsimloo, Vice Principal
Deptford Green
Feedback from Role Model seminar as St Matthew Academy
"To all the Urban synergy team from St Matthew Academy. The event that you organised for our school community tonight was simply awesome. To see some of our most challenging students walking away with business cards and meeting such incredible people has left me speechless.
The people that you have in your team is staggering and the heart and passion you all have simply glows and that was the greatest night in our schools existence… "  Martin Nirsimloo, Vice Principal St Matthew Academy
"The Inspiration Evening has simply been inspiring! It was a great
opportunity for me to see people with such tremendous careers and learn the
obstacles they have overcame to be in such a position. My preparation for
the future is gradually constructing itself within my mind."
"Well done Leila, a very inspirational evening which should give hope to many  off our young people who may have become disenchanted. Events like yours should have a positive impact on the lives to inspire them to make to most of the opportunities they have and become the best they can be.
It certainly had the desired affect on my son, who is more optimistic about his future and now has a clearer understanding of where his wants to be and my mentee who found it very informative.
Keep up the good work."
"I was well impressed by this event and think schools/pupils will definitely benefit from role models visiting schools and sharing their experiences with kids, especially those at the cross roads.  The 'right' message will begin to get through to the majority of our younger generation by this approach.
Also super impressed that 99% of the panelists turned up on time and they were able to relate to the youngsters at their level …especially Tim Campbell – i thought he was rather animated and brilliant !
Well Done Leila and your team ! "