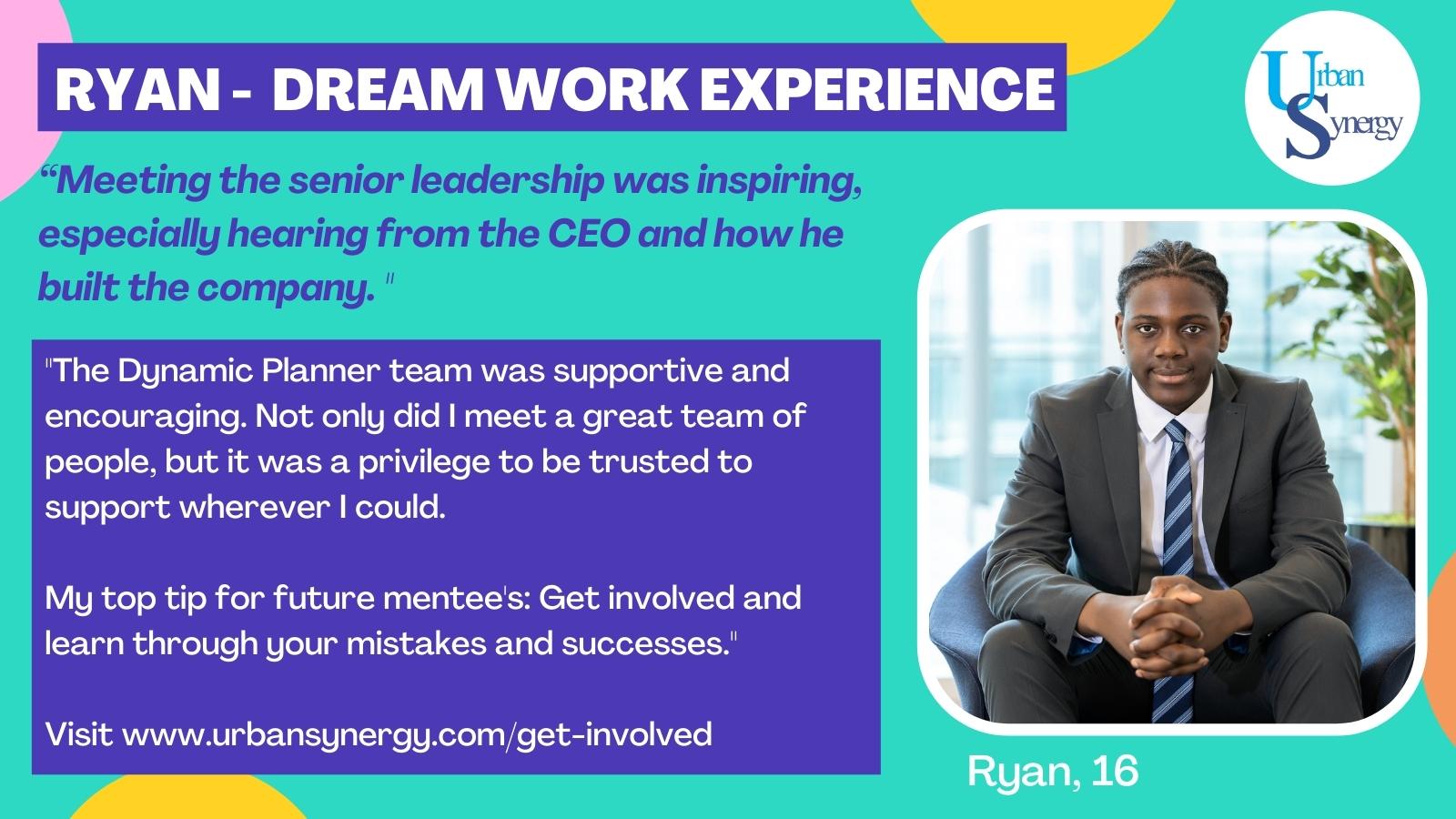 National Careers Week is a celebration of careers guidance and education. At Urban Synergy, we empower young people to write their own future, and what better way to do that than through work experience opportunities. Our DREAM work experience programme is a paid 4-6-week internship opportunity offered to mentees aged 15-18.
Last year Ryan completed our DREAM programme with Dynamic Planner, the UK's leading risk-based financial planning system. Ryan first joined Urban Synergy's e-mentoring programme through his basketball club in 2021 and has since become Chair of the Urban Synergy Youth Council.
Tell us a bit about your internship experience at Dynamic Planner.

"Being in a remote professional environment was all very new to me. At first, I was nervous about meeting new people and what to expect, as I wanted to make a good impression. However, during the internship, I gained more confidence as Dynamic Planner, and Urban Synergy gave me a lot of support. The Dynamic Planner team was supportive and encouraging.
Meeting the senior leadership was inspiring, especially hearing from the CEO and how he built the company.
During the internship, not only did I meet a great team of people, I saw that the company's mission was very clear: to support clients and make portfolio management easier for them. Everyone I met was focused on that goal. It was a privilege to be trusted to help wherever I could."
What are you up to at the moment?
"I have been lucky enough to be appointed as the Chair of the US Youth Council, which I'm very excited about. My experience with Dynamic Planner will undoubtedly help me in the role. I'm also preparing to apply for more summer internships this year. I've just finished my first set of mocks for my A-Levels in Physics, Maths and Economics.
I want to create as many opportunities for myself as possible to keep my future career options open. Currently, I continue to play professional basketball whilst working towards studying finance and business-related degrees. I'm aiming to go to university in the USA, ideally focusing on a career in Finance."
What advice do you have for future mentees?

"Don't worry too much about the future. Focus on getting good, useful experience in the now. Get involved and learn through your mistakes and successes."
Here's what Dynamic Planner had to say:
"We chose to work in partnership with Urban Synergy, recognising that we could make a real difference to the students by providing interesting work opportunities that are not always easily accessible.
Our team members who supported the DREAM programme, which Ryan was part of, got to develop their own mentoring skills and impart valuable knowledge gained through their own working lives. Ryan fitted in really well as part of our finance team; we were really impressed by his contributions, professionalism and ideas, some of which have been implemented and are of benefit to the company."
- Elly Gallagher, Head of People & Values